Providence Auditorium has high quality AV equipment, an adjoining kitchen, and an accessible entrance/lift. Our center now also offers kitchens, dining rooms, sleeping accommodations and conference rooms.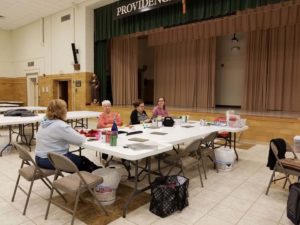 Other Features:
Two Chapels (Private or public Mass options)
Handicapped Accessibility
Local businesses within walking distance
Single, double and dorm accommodations
Common & private bath facilities
Multiple dining areas
Kitchen for caterers & those doing their own cooking
Two conference rooms
Exercise room
Four private parlors
Smoke-free facility
Affordable rates
St. Francis Retreat Center has two beautiful chapels which can be used by retreatants, and the opportunity for daily Mass.
Various faith-centered groups hold retreats in our center throughout the year.
In the summer months, Sister Mary Ruth holds a number of retreats and mornings of reflection which are open to the public.
We have hosted groups such as Ignatian retreats, Rachel's Vineyard, mother-daughter events, priests' retreats, and many more.
Grounds and Nearby Attractions:
Set in a peaceful rural environment, our center offers beautiful gardens in season and ample grounds for outdoor activities.
We have outdoor stations of the cross, a Lourdes grotto, and spacious grounds. Gazebo, rock gardens, and fishpond are a few favorite spots that guests enjoy.